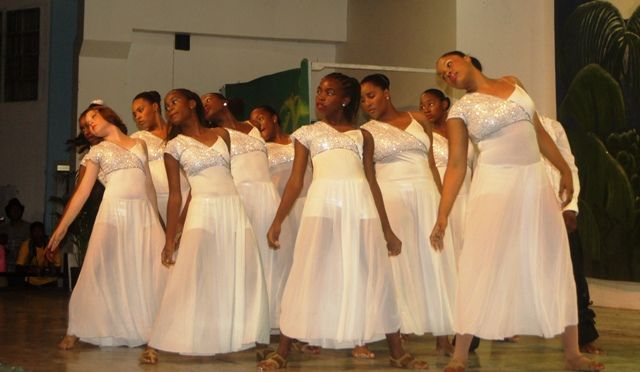 Virgin Islands News Online, ROAD TOWN, Tortola, VI – A kaleidoscope of colors burst on the Sir Rupert Briercliffe Hall's stage as some 350 dancers dazzled patrons with a litany of dance styles over the decades with grace and energy last evening June 16, 2012.
The BVI Dance Fest, now in its 12th year, did not disappoint and started off on a high note with tots 1B sharing the dancing spotlight with their fathers, brothers and uncles to "You'll be in my heart". The Intermediate ballet group joined the tots and guests for the special tribute to fathers.
Over the next 26 performances, the packed Hall was treated to hip hop, ballet, jazz and contemporary jazz, and proving to be a delight was the Hip Hop classes 1 & 2. They rocked out in neon colours to the popular dance number "Party Rock", and it was evident the dancers were having a blast on stage as they busted some moves, which had the crowd in an uproar.
Another notable performance was effortlessly executed by the contemporary jazz and ballet class "Who will comfort me" in which the young ladies looked ethereal in white as they glided on stage.
Of course a Michael Jackson number had to be on the program with the Intermediate Jazz dancers in fiery red outfits moved to "Smooth Criminal".The St. Georges Secondary School Dancers, OMG Girlz and J.A.D also gave stellar performances.
Furthermore, the CADA Players entertained in "Clowns for Haiti", a performance that was definitely a hit with the tots and teens. Dance instructor Joanne Penney appealed to the audience to give generously as the Dance Committee is working with a group in Haiti. She and another instructor will be traveling to the Caribbean island shortly.
Tamara Archibald-Gill chaired the evening's fest, and the Dance Fest Committee President, who revealed her presidency ends this year after five years, gave the invocation.
BVI Dance Fest is produced by the BVI Dance Fest Committee which is a group of people from the community that work all year round in raising funds for the promotion of the performing arts in the community.
Most important for the Committee is that they gave financial aids and scholarships to children between 4 and 19 in the community who normally would not be able to attend dance classes and they also strive to broaden their scope by promoting activities and programs in the community for the benefit of everyone.